Cool Tips!

Singapores original shoreline has undergone reclamation many years ago. Now, after everything has settled down, marine life has rebuild their home on our shoreline. The reclamation also helped some parts of our shoreline access to deep waters during the full tide. This meant that big fishes could come close to our shoreline to feed. Shore Fishing is the cheapest and easiest way for any angler. You only need to look at the tide-table to decide when to go fishing.

Below are some common types of fishes you can find on our shoreline:
1. Sting-ray
2. Grouper
3. Catfish
4. Eel
5. Sea Bass
6. Snapper
7. Bream
8. Queenfish
9. Barracuda
10. Mullet
11. Wolf Herring

Items needed for Shore Fishing
1. A 12-13ft Surfcasting Rod (Not too stiff and not too soft)
2. A reel (Multiplier or Fix Spool) able to load about 200m of 20-30lbs line
3. Some Casting weight Size 5-7
4. Rig: tie a single hook Size 3/0 or a double hook size 1
5. Bait: (Must be Fresh). Squid, Prawn, Worm, Small bait fish
6. A rod stand holder or a sand pike
7. Rod tip luminous light (For Night Fishing)
8. Head Lamp/ Torch light
9. Small Ice Box to keep your baits fresh
10. Dry cloth to wipe your wet hands
11. A long-nosed pliers to unhook fish

Method for Shore Fishing
For a productive Shore Fishing, the best time to fish is at night when the full tide is 2.6m and above. You also need to fish for 4hrs before and after the full tide. That means you will need to fish at least 8hrs. This is because the fishes will only feed for about 1-2hrs during this 8hrs. Once you find that the fish has started feeding, always change your bait more often (every 10 minutes). This is to make sure that you have bait at your hook when the fish is feeding. If possible, fish with two rods. One rod should be cast far out with a single hook and another cast near with a double hook rig. This maximizes your chance for a hook-up. Rig body should make from 50lbs mono and snood from 30lbs Dupont line for small baits. As for big baits, use 70lbs mono for rig body and 50lbs Dupont line for snood and a 10 inches steel wire tied to a single size 3/0 hook.




Things to look into:
1. Never buy baits from the supermarket (Not as fresh). Buy them from a wet market instead.
2. Never go home when the fish is biting
3. Always bring more than enough bait
4. Do not make loud noises at your fishing spot
5. Never be lazy to change bait
6. Never fall asleep when fishing
7. Bring extra fishing accessories (e.g. hook, line, casting weight)
8. Never feel jealousy to the angler next to you who has a hook-up
9. Never be shy to ask if you are not sure
10. Never squeeze into a spot where there are many other anglers occupying it (even though the spot is your regular place)

RIGHT METHOD, RIGHT TIDE/TIME, RIGHT ATTITUDE AND PATIENCE IS ALWAYS THE FORMULA OF SUCCESS IN SHORE FISHING
Learn step by step on how to do a overhead cast with a multiplyer.
Tackles needed for a beginner.
1) A 10-12ft multiplyer surf rod that is not so floppy(soft)
2) A small to medium size multiplyer reel with a CT cage (without level wind)
3) Load the reel with 20-30lbs mono line for easy untanglement if there is a spool over run.
4) Size 4 or 5 casting sinker.
5)Check your multiplyer spool by holding it with your two finger n try to move it left n right. If it has sound, you need to tighten the knob on the left side.(some reel only has a knob on the right) Just tighten abit will do n check the spool again. If it has no more sound mean it ok. Do not over tighten it as it will affect your spool rotation during casting. Check this by try spinning the spool n if it rotate smoothly n flow mean ok.
6) After setting up the tackle, place your sinker at the 12 o'clock position and you should be standing at the 6 o'clock. Your rod guide should be facing downward.
7) Make sure your line is not coil around the rod tip.
8) Point your rod tip downward. The line between the tip n the sinker must be straighten before you cast. This will avoid a jerk during a cast.
9) Press your thumb on the spool n open the free spool lever.
10) Begin with a general overhead cast with smooth motion without jerking the rod.
11) Once the rod is at high forward position, release your thumb from the spool n let the sinker carry your line out.
12) Keep your eye on the sinker and when it hit the surface of the water, thumb down on the spool to slow it down and let the sinker sink down to the seabed.
13) Untangle out the line if there is any loose line on the spool before you started to wind back.
Note: Never use bull strength to cast if you are a beginner. Use thicker line for easy untanglement. (nevermind the distance first). Always watch where the sinker fly n thumb down on the spool when it hit the water surface. Do all the casting practice on day time first so that you can see the sinker clearly. Try to practice your casting on a deserted beach to avoid danger to other. Remember, lots of practice make perfect.
Below are two common surffishing rigs which I use for shorefishing

Rig on the left is a single hook long snood bottom feeder: I use this rig for targeting big fish and also on strong current flow days.
Rig on the right is a two hook paternoster one up one down. This rig is good for general fishing and on slow current flow days.
Both rigs are simple, easy to tie, effective and tangle free. It also can be use for boat fishing in our local water.
Things to Know before you proceed to the beach for fishing:

In Singapore, to land a fish from our shoreline, is a difficult task to many anglers and to land a big one or a decent fish is even harder. Many blame on luck but to me, many things need to be done before you proceed to the beach and this is defintely an important factor to note. Here are some tips to follow if you are a serious angler who is determined to succeed in shore angling.

1. Knowing your spot:
You need to choose or select the spot you are going to fish. Once you have chosen, try to go down and check out the place, high and low tide markings and any rocky spot. If possible, talk to the local anglers there on what type of fish you would expect to catch, the best method and bait to use.

2. Tide and Timing:
Look at the tide table and choose a date that has a good high tide and current flow. Fishes seldom bite on dead current.

3. Tackles and Method:
Select the right tackles(light or heavy) you are going to use and which method of rig will be best(eg. groupers, stingrays need baits presented on seabed and queenfishes, barracudas need baits to be presented on mid-water).

4. Selection of baits and its freshness:
Eg. Salong or Seaworms are best for small fishes, squids or small fishes are favourable with the big fishes.

5. Time to start fishing:
From the tide table, you would be able to decide what time to reach the location on that particular day and start fishing(always start at the beginning of incoming tide).

6. Changing of baits:
Never be lazy to check or change your baits every 10-15 minutes. In addition, also check on the sharpness of your hook or any cuts or bruises on your mono snood line. If you are not satisfied, change it.

7. Weather:
The weather will affect your hook-up rate if there is a heavy downpour on that day. Cold strong winds with rough sea surface also affect fish feeding habits.

If you have followed closely to the above mentioned things and then still catch nothing, then you can consider yourself "no luck". To me, on every fishing trip(in Singapore), if you are able to catch something, whether big or small, good or bad fishes, it is considered to be a successful trip.
Legal shore fishing spots around Singapore Shoreline

Changi beach (the tanjong) beach infront of ubin bound jetty.
Changi beach the part near to carpark 1&2.(End of Telok Paku road)
Changi beach the part near to carpark 3,4 n the calfi jetty.(Along Nicoll Drive)
Changi beach the part from carpark 5-6. Infront of the cargo terminal n all the way to Changi ferry terminal.(Along Nicoll Drive or go in by Changi ferry terminal road)
Beach on the left n near to the Tanah Merah ferry terminal.
Canal mouth n breakwater on the right of Tanah Merah ferry terminal
Beach n canal infront of the SAF chalets(Changi coast walk)
The Six Pipe(East Coast Park Carpark H)
East coast beach breakwater stone from no: 17 to 24.
Bedok Jetty(East Coast carpark F1&F2)
East coast beach breakwater stone from no: 8 to 16
The Four Pipe.(East Coast carpark D1)
East Coast beach breakwater stone from no: 1 to 7. In between there is two short drainage extension platform look like a mini jetty.
East coast beach infront of Tanjong Rhu or the Helicopter landing pad(Marina East)
Kallang River n the basin near to the Nicoll highway.(Tg. Rhu road)
Marina promenade facing kallang n Singapore river.
Marina south fire work empty land(beside ECP) facing clifford pier.
Marina South breakwater starting from SGP river mouth n all the way to near container port.
Sentosa entrance carpark on the left.
Sentosa breakwater infront of " the lost civilization"
Sentosa breakwater behind the Underwater world.
Sentosa Tanjong beach.
Labrador park beach n jetty.
West coast beach.(the part infront of west coast park)
Pandan River.
Tuas northen basin ( End of Tuas South Ave 8. Opposit the shipyard)
Tuas reclaimed Area.
Lim Chu Kang road end n beach nearby.
Kranji beach.
Beach near to Woodland causeway.
Beach near to Senoko power station.
Sembawang beach n jetty.
Breakwater near to Ponggol Marina.(Seventeen Ave.)
Ponggol Jetty n the beach on the right near to coney island.(Sugei Ponggol)
Beach infront of Lorong Halus road end.
Pulau Ubin beach infront of the rock hill
Pulau Ubin jetty n beach on the left facing Changi.
Pasir Ris beach near to the fisherman village.
Pasir Ris beach near river Api Api.
Loyang beach near to the "tua pek kong temple"
Changi walkway bridge between the changi swimming club n the sailing club.
Note: Certain spots here need to cast far in order to get productive. So short fishing rod are not recommended.
My review base on my practical experience on three common small multiplyer available here purely for the use for surffishing only.
Abu 6500CT reel (Sport rocket, Blue Elite, Mag Elite)
This little abu reel are cute, light n lovely. It spool is light n are very good for distance casting. But when come to braking power, casting big bait n line retrieving at far distance. It's on disadvantage as its has a smaller spool n slower gear ratio. Especially on rough ground and deep water area
Daiwa Sealine SL20SH reel
This little Daiwa reel has a narrow spool which makes casting n spool control easy. The oversize handle makes lots of cranking power. The fast 6:1 gear ratio gave retrieve line at far distance or deep water area light n easy. One disadvantage is it has a large gearbox that makes one feel discomfort during casting.
Penn 525GS or Mag Sliddy reel.
This reel has the largest spool among the three n hold the most line. It also has a very powerful handle n the fast 6:1 gear ratio makes easy on retriving line. A rugged reel good for casting big bait to far distance. The disadvantage is it has a slightly wider spool gap n if use thin diameter line sometime can get caught between there.
Below are my choice of reel to use on different ground
For fishing on clean beach with small bait:
1) Abu 6500CT
2) Daiwa SL20SH
3) Penn 525GS
For fishing on clean beach with big bait:
1) Penn 525GS
2) Daiwa SL20SH
3) Abu 6500CT
For fishing on rough ground with small bait:
1) Daiwa SL20SH
2) Penn 525GS
3) Abu 6500CT
For fishing on rough ground with big bait:
1) Penn 525GS
2) Daiwa SL20SH
3) Abu 6500CT
For fishing at shallow water:
1) Abu 6500CT
2) Penn 525GS
3) Daiwa SL20SH
For fishing at deep water:
1) Daiwa SL20SH
2) Penn 525GS
3) Abu 6500CT
Tackles, Skills n Knowledges needed to become a specialize Surf Angler.
Just be able to cast out a bait from the shore isn't going to satisfy you as a surf angler. It will be more satisfying for you if you were able to catch your own bait, apply the right fishing method at the right time, caught n land a decent fish all by yourself. To be able to fulfill this, beside many years of fishing experience needed, you also need many type of shore tackles, good casting technic n master all the knowledge of shore fishing. Below is what you need to become a specialize surf angler.
OWN MULTI ACTION RODS FOR DIFFERENCE METHODS OF FISHING.
1) A medium to heavy action 12-13ft surf rod for targeting monster fish at beach or jetty.
2) A light to medium action 12ft surf rod for general fishing at beach or jetty.
3) A 10ft. light to medium action spinning for poping, long range luring or use for general lobbing a bait nearby at pier or breakwater stone.
4) A light spinning rod for jigging, casting of lure or catching bait fish with small bait.
HAVE MULTI TYPE OF REELS FOR DIFFERENCE FISHING NEED.
1) A heavy surf multiplyier or big size fixedspool reel that can load up to 250 meter of 30lbs monoline. for heavy fishing.
2) A light to medium multiplyier or fixedspool reel that can load up to 200 meter of 20lbs monoline for general fishing.
3) A small spinning reel with 12lbs monoline for luring, jigging or catching bait fish.
STORE n SELF TIE MULTI TYPE OF SURF RIGS FOR DIFFERENCE FISHING NEED.
A good surf angler should always have all sort of difference kind fishing rig sets pre- tie n ready to be use. It basic consist of:
1) Single hook long snood bottom feeder rig for use at fast current flow area and for targeting big bottom fish.
2) Single hook short snood bottom feeder rig for slow current flow area.
3) Two hook apollo rig for general fishing.
4) Many sets of bait fish rig like(tamban rig or multi hook for catching sand eel.)
HAVE DIFFERENCE SIZE OF SURFCASTING WEIGHT
1) Size 5 n 6 casting grip lead for use at strong current area.
2) Size 4, 5 n 6 plain lead for use during slow current time.
3) Size 3 plain lead for lobbing small bait nearby or to snaggy area.
4) Size 0.5 to 1 small lead for jigging used.
MASTER DIFFERENCE KNOWLEDGES AND SKILLS
1) A specialize surf angler should have the knowledge of reading the tide n current flow direction at the place he is fishing.
2) He must be able to identify all the common species of fishes, the behaviour, its feeding habits and what type of rig to use to target them.
3) He should possess the gut, a steady mindset and the skill to fight a monster fish should the occasion arise.
4) Must have all the knowledges n skill of tying different kind of rigs
5) Know how to secure n properly hook all sorts of baits.
6) He should master the skill of casting difference size multiplyier without a spool overrun.
7).Able to cast a multiplyier or fixedspool reel in a straight direction.
8) Can fish independently without any assistance.
9) Skill n knowledge of catching his own baits.
10) Knowledge on how to store the bait in the best condition.
If you have all the above requirement, congratulation, you are now a specialize surf angler.
The correct angle to erect your surf rod holder and when to strike.
As a surf angler we normally cast out our rod n place it at a railing or on a rod holder. How many of you notice this will affect your striking n hookup when you erect the rod holder at a wrong angle? If you place the rod on a railing then there is not much problem as the rod will be at about 30 degree angle. It gave you a very large angle to flip your rod backward. But if you place your rod on a rod holder erected at 90 degree.(Many tie their rod holder on the railing) It gave you very little angle to flip your rod backward. This will affect the hook set in.

The correct way to place your rod holder is to erect it at 45-60 degree angle. This will leave you lots of space to strike your rod backward. Indirectly it help a better hookup.

The correct timing to strike is when you see your rod tip bend. Pick up your rod n gave a strong flip backward straight away. If you miss the first bend of the rod tip, then wait for the second time. It won't be long if the fish is still there. Once you feel the weight of the catch then you can close your alarm n lock your drag.

Never do this if you spot the rod tip bend:
1)Pick up the rod n wait for the fish to pull.=Result= fish feel the movement of the rod n throw out the bait.
2)Pick up the rod, close the alarm, lock the drag=Result= fish already say bye to you long ago.
3)Pick up the rod n lower the tip ready waiting to strike.=Result=Once the rod tip is lower, your main line is slack. This gave the fish a chance to say bye bye.
4)If you spot some rattle on the rod tip, do not pick up n strike immediately. It could be crab or other feeding on your bait. Best is wait a little n keep you eye on the rod tip n see if it continue. If still have movement then strike straight away.

Do this immediately if found your main line suddenly slack.
1) Pick up the rod n strike backward until the line is straighten if the slack is not much.
2) If there is lots of slack line, then no choice, wind back the line as fast as possible n strike once you feel the tension.

Follow the above method closely and it will help you to a greater hookup rate.
How to tie or join a hook line to the rig body with a simple three turn overhand knots.
Photo 1 show put two line parallel together.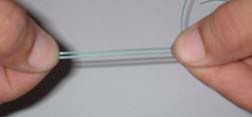 Photo 2 show we make a over hand loop with both line together.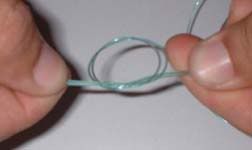 Photo 3 show we make three turn of both line inside the loop.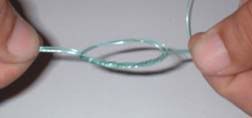 Photo 4 show we pull the two line tight together.


Photo 5 show the knots is form.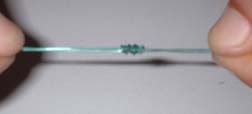 Photo 6 show we make a additional lock knots with the snood end. What you need to do is bring the end n make a loop on the rig body.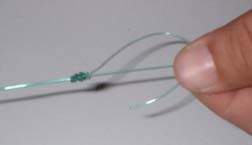 Photo 7 show we make two turn inside the loop.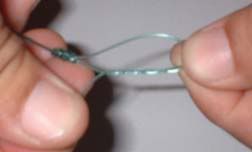 Photo 8 show we pull tight the lock knots.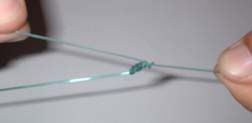 Photo 9 show we trim off the balance end.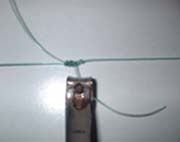 Photo 10 show the completed hook line.

If you don't want the lock knots also can. As long as you pull tight the three turn knots is ok.
Cheap n Good Tackle Recommended.
If you like to own a small multiplyier like the Abu 6500 size but find the the Abu is too costly, here I recommended you to take alook at this SureCatch Commander 300. It is make almost built like the Abu baby but is much cheaper. Cost around S$50.00, it has a power handle n come with a level wind. Very cheap n good to use as a light work reel on boat or beach n jetty fishing. For those who want to use it for surfcasting, just take out the level wind n it will cast freely. Recommended to load with 15lbs to 20lbs mono line.